All Events
Managing Excess Food & Scraps in the Androscoggin Valley: Reduce – Donate – Compost Workshop
Presentations Available At: www.newmoa.org/events/agenda.cfm?m=339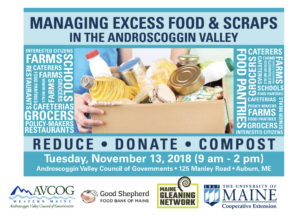 Approximately 15 percent of households in the Androscoggin Valley are food insecure, yet over 20 percent of the material entering landfills is food, much of which is edible. There are many opportunities to reduce the generation of food waste, donate edible food to help those in need, and compost the rest. The workshop was designed for food producers, farmers, distributors, retailers, schools, food pantries, meal sites, and anyone interested in reducing the amount of food that is sent for disposal to:
Discover opportunities to reduce the amount of food that becomes waste & save businesses $$
Make connections with others working to increase food recovery & donation
Find out what can & cannot be donated & to where
Learn about liability protections & tax deductions for food donation
Find out about local options for composting food that can't be donated
Hear success stories & ideas for new opportunities
The workshop featured representatives from Androscoggin Gleaners, Bates College, Exeter Agri-Energy, Good Shepard Food Bank, Hanniford Supermarkets, Lean Path, Maine DEP, U.S. EPA, Whole Crops, and We Compost It!
Sponsored by:
Androscoggin Valley Council of Governments
Good Shephard Food Bank
Maine Gleaning Network
University of Maine Cooperative Extension
Northeast Waste Management Officials' Association (NEWMOA)