All Events
Food Recovery & Donation: Northern Vermont Summit
October 21, 2018 @ 1:30 pm

-

5:00 pm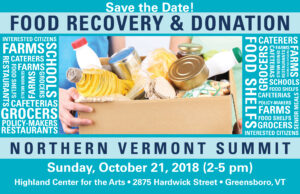 Food insecurity is a serious issue in northern Vermont and there are many opportunities to become involved. The workshop involved food producers, farmers, distributors, retailers, schools, food pantries, meal sites, and anyone interested in food recovery and donation to:
Make connections with others working to increase food recovery & donation
Find out what can & cannot be donated & to where
Learn about liability protections & tax deductions & how food donation can save $
Hear success stories & ideas for new opportunities
The workshop featured representatives from the EPA, Vermont Foodbank, Salvation Farms, Neighbor-to-Neighbor, and Jasper Hill Farms. We also showed portions of Anthony Bourdain's movie, Wasted! The Story of Food Waste.
Agenda
1:30 Check-in & light refreshments
2:00 Welcome, Objectives, & Introductions
Shannon Choquette, Northeast Kingdom Waste Management District (NEKWMD)
2:15  Opening of Wasted! The Story of Food Waste movie
2:30  Food Recovery & Donation in Vermont, Initiatives, Challenges, & Opportunities
Kelsey Pratt, Vermont Foodbank
2:50  Portion of Wasted! The Story of Food Waste movie
3:00  Promoting Food Donation: Liability Protections, Tax Incentives, & Date Labeling
Christine Beling, US EPA Region 1
3:20  Networking Break  
3:35   Making the Connection Between Farms & Food Recovery
        Theresa Snow & Julia Scheier, Salvation Farms
3:50  Local Recovery/Donation Partnership, Lessons Learned, & Suggestions for Others
Jen Bernier, Neighbor-to-Neighbor in Newport
4:05  Portion of Wasted! The Story of Food Waste movie
4:15   Making a Marketable Product From What Was Previously a Waste
Monique Beaudry, Jasper Hill Farm
4:35  Ending of Wasted! The Story of Food Waste movie
4:45   Sharing Comments/Recommendations/Next Steps Suggestions
Shannon Choquette, NEKWMD
5:00   Adjourn
Sponsored by:
Northeast Kingdom Waste Management District
Vermont Foodbank
Northeastern Vermont Development Association
Northeastern Vermont Regional Hospital
Vermont Department of Environmental Conservation
Northeast Waste Management Officials' Association (NEWMOA)